HIRE THIS DIGGER TODAY FROM £75 + VAT
This machine is currently in stock and available to hire today.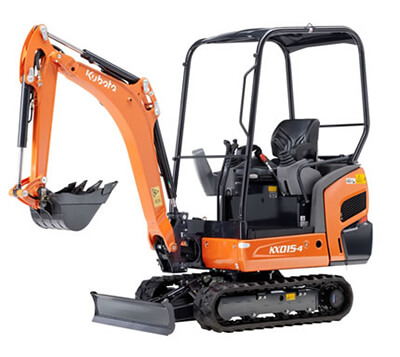 £75 + VAT per day or £250 + VAT for a 7 day week
Call 01543 672730 now to book
1.5 Ton Kubota Mini Diggers are great for most digging work and are even capable of serious concrete breaking with our breaker attachments.
Mini Diggers such as the KX015-4 that we stock are the digger of choice in the utility sector and building industry due to their high reliability, excellent arm reach and crucial stability.
If you require green seat belt beacons then please let us know as we now stock machines with these fitted.
These diggers are perfect for:
Small enough for pavement use.
Just 99 cm wide and can get through back gates and fence panels.
Great for breaking out areas of concrete that are just too much to do by hand when utilised with a digger breaker.
Digging gardens, drives and trenches.
Extracting tree stumps and roots.
Strong enough to make light work of things that would take much longer by hand.
Comes with Kubota Anti Theft Key - Thatcham Approved.
All of our machines come with a full set of buckets as standard and we stock a full range of breakers, augurs, post knockers and window shutters.
The Chase Plant Hire Difference:
 Highest stock levels in the Midlands.
 Same Day Delivery.
 No Account Required.
 No Deposits.
 Newer Machines (most under 3 years old).
 Service records, training and expertise always available.
 We hire to all; domestic, commercial, public and private sector.
Easy to quickly hire equipment.
LIST PRICE:
£250 + VAT PER WEEK
£75 + VAT PER DAY
Why Kubota Machines?
The Kubota Mini Diggers that we stock are one of the best machines on the market, they also come with the Kubota Anti Theft key which is a Thatcham 1 approved alarm system that immobilises the electrics, hydraulics and fuel systems.
Delivery
Equipment is usually delivered by wagon, if you believe there are access restrictions that could cause difficulty for larger vehicles please let us know.
We stock a range of accessories including mini digger breakers, mini digger augurs, mini digger tree stump grinders, mini digger post knockers and also digger window shutters.
View Digger Accessories
Hire A Breaker
If you have a lot of concrete to break out then the best method is to hire a breaker that goes on the end of the digger. Not only are these powerful and quick at breaking concrete but they also do not cause Hand Arm Vibration issues.
Diggers make life easy when it comes to digging, but to move all of that you have dug out it is best to use a dumper. Check our dumper page for more information.
Hire a Dumper
Our Dedicated Hire Team is Here to Help You. Call us on 01543 627 730
Our team of full time hire controllers is ready to answer your call immediately, answer our questions and arrange your hire instantly.
Clients Who Hired This Also Hired
REMEMBER: Order your extras at the same time to combine delivery costs. 
Take advantage of our special offers and save!
Hiring from us is as easy as 1-2-3!
Booking a machine has never been easier, we pride ourselves on making hiring Mini Diggers, Dumpers and Rollers in the UK as easy and as quick as possible.
Need a Smaller or Bigger Machine?
Micro Diggers are idea for fitting through narrow access restricted areas such as alleyways or even doorways yet still pack a powerfull digging force.
They are ideal for digging ponds, taking up large areas of turf or even for digging footings in those places where a standard Mini Digger just cannot access.
Learn More
The Kubota KX61-3 has all the advantages of the Kubota Mini Digger - but comes in a bigger package, the added weight and power increases stability and productivity.
Able to reach to a depth of 2.49m and weighing 2600KG; the machine can be towed behind many 4x4's and commercial vehicles. 
Learn More
If you need help or would like to book a hire call 01543 672 730 now to speak to our team.
WE HIRE TO EVERYONE - General Public, Companies, Local Authorities. No Account Required, No Deposit Needed.
To book can take as little time as 5 minutes!